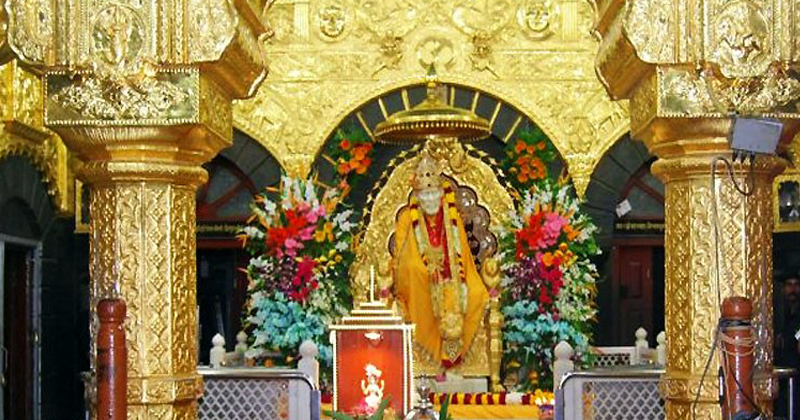 Shirdi sai baba temple
What religious people today do not believe Sai is, nor does it make any difference. Establishment of faith is done from childhood. Rarely are those who, after coming out above things taught to them, find their existence and recognize their true religion. Real religion is Independence, Chirashanti and Sarashagati. Sai had known his religion and tried to convince everyone in very simple words. Sais teachings seem to show that this saint appeared on earth to eradicate the distinction of religion, caste and peace, and prosperity of people. Sai Baba had a lot of affection for children. Sai has always tried to help people to help each other in small problems and troubles and communicate devotion and devotion in each others mind. For this purpose he had to use his divine power too.

Shirdis fame is far from the fame and this sacred religious place is situated in Ahmednagar district of Maharashtra. This is the earth of Sai where Sai has forgotten people with its miracles. Sais life was spent in Shirdi where he performed public welfare work. He taught his followers devotion and religion. Sais followers include crores of people including countrys big leaders, sportsmen, film stars, businessmen, educationists. Sai Babas holy shrine in Shirdi is built on the top of the temple of Sai. This temple was constructed in 1922 to pursue the works of Sai. Sai came to Shirdi at the age of 16 and stayed here till he was absorbed in the chaasamadhi. Sai people also know as spiritual teacher and fakir. Among the followers of Sai, there are Muslims as well as Muslims. The reason for this is that during his lifetime, Sai had been in the mosque while his mausoleum has been converted into a temple.

There is a huge temple of Sai in Shirdi. It is believed that, no person returning empty handed to his court to visit the poor or rich Sai does not return empty-handed. All the wishes and vows of all are fulfilled. Shirdi Sai Babas real name, birthplace and birth date is unknown to anyone. Although Sais lifetime is believed to be 1838-1918. Many authors have written books on Sai About 40 books have been written on Sai. Nobody knows where the Sai appeared in Shirdi. Sai was extraordinary, and his grace was the first of the kindergarten people on the first anniversary. Today Shirdi is an important pilgrim center. The temple of Sai opens at 4 a.m. Aarti in the morning is at 5 o clock. After this, devotees start seeing from 5.40 in the morning, which continues throughout the day. During this, aarti is done at 12 noon and immediately after sunset in the evening. At 10.30 pm, after the last aarti of the day, a shawl is wrapped around the huge statue of Sai and the sai is worn by the rudraksha garland. After this, a glass of water is placed near the statue and then mosquito net is applied. At 11.15 pm the temple door is closed.